Factory Farming (Playdate)
Sandbox Mode & Minor Update
---
Sandbox Mode
Did you know that while Factory Farming doesn't have an official sandbox mode, you can set one up yourself quite easily using the power of cheats! These cheats were used extensively to help develop Factory Farming, they're available since Version 1.0.
Switch on Infinite Money
Press the Menu button and choose the menu option to get into the game's menu.
Scroll down to where the game's controls are listed.
Highlight the explanation of the "Rotate" control.
Press the A button 20 times.
You should hear a ding, and your money will be replaced with an infinity symbol.
Unlock All Upgrades
As above, except select the explanation of the "Resize" control.
Press the A button 20 times.
Everything will be unlocked! If you press A again 20 times you can return to your prior upgrade progression level.
Stock up!
You can now go to the shop and buy thousands of each item, effectively giving you a creative sandbox mode.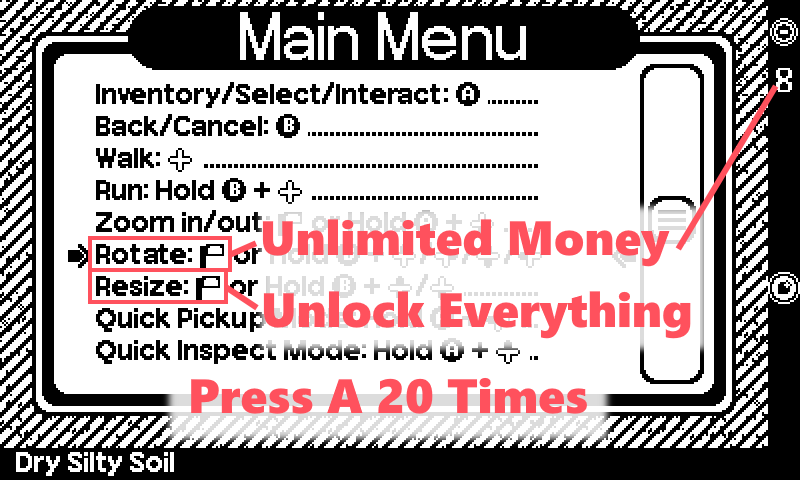 Minor Update: Version 1.2
This update only contains minor fixes. Remember that if you are updating via the sideloading website, and your originally sideloaded before February 2023 then you will also need to copy over your save game date into the game's new install.
Factory Farming v1.2 was compiled with the (as of writing) new Playdate 1.13.2 firmware.
Using the crank to resize the application area of Conveyor Grease and Obstruction Removers was broken and has now been fixed.
The unlock description of the Factory Upgrade Module was re-written to fit the screen.
The game would crash on device if the build limit was reached.

This limit was 8,192 buildings per plot. But to reach this you would need build on around 70% of all tiles in the plot, which is not easy! Especially so as factories count as a single building, but occupy 9 tiles.
The build limit is increase to 12,096 and hence it is no longer possible to reach it under any circumstance.
Get Factory Farming (Playdate)